Source: http://www.ablebits.com/office-addins-blog/2013/05/31/excel-workbooks-separate-windows/
If you are trying to open Excel files in separate windows here are 3 methods that would help you accomplish that.
Method 1 (Excel icon on the taskbar):
1. Open your 1st excel file
2. Right-click the Excel file icon that you just opened on the taskbar and pick "Microsoft Excel 2010″ (or 2007):


3. New Excel file will open and then navigate to File -> Open and browse for your second excel file.
Method 2 (Excel shortcut):
1. Open the folder where your Office is installed. The default path for Excel 2010 is C:/Program Files/Microsoft Office/Office 14. If you have Excel 2007, the name of the last folder is Office 12.
2. Find the Excel.exe application and right-click on it
3. Choose the option to Create shortcut and send it to your desktop.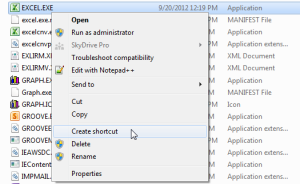 Whenever you need to open a new instance of Excel – double-click this desktop shortcut.
Method 3 (Excel option in the Send To menu):
If you often have to open two Excel windows simultaneously, see this advanced shortcut solution suggested on the forum. It is actually easier than it may seem, just try it:
1. Follow the steps above for creating Excel shortcut (Method 2)
2. Open this folder on your computer: C:/Users/UserName/AppData/Roaming/Microsoft/Windows/SendTo
Note! AppData folder is hidden. To make it visible, go to Folder options in Control Panel, switch to View tab and select to "Show hidden files, folders, or drives".
3. Paste the shortcut into the SendTo folder.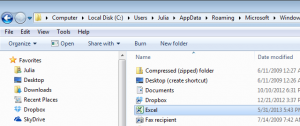 Now you can avoid opening your second file from within Excel. You can right-click the file you want in a new instance, and choose to Send To -> Excel.